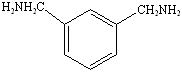 Chemical formula:C8H12N2
Molecular weight: 136.2
MXDA chemical structure contributes unique characteristics when used in epoxy, polyamide and urethane systems. MXDA has been used as an epoxy curing agent globally for more than 30 years in the paint and coating industry. Features low temperature curing and high chemical resistance.
1,3 BAC/ 1,3 Bis(Aminomethyl)cyclohexane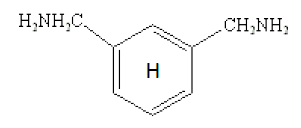 Chemical formula:C8H18N2
Molecular weight: 142.2
1,3-BAC is a colourless liquid and highly-reactive cycloaliphatic diamine. In the paint and coatings industry, 1,3-BAC is widely used as an epoxy curing agent. The epoxy curing agent features low temperature curing, good chemical resistant and coating colour stability.

A ready to use derivative of MXDA. It features high bond strength to wet surfaces and fast curing in epoxy hardener. The coatings using Gaskamine 328 show a beautiful surface finish with high chemical and water resistance.
| Name | CAS NO: | Amine Value | Active Hydrogen Equivalent Weight | Purity % |
| --- | --- | --- | --- | --- |
| | | | | |
| | | | | |
| | | | | |
To arrange samples and further information please contact us
Tel: +44 (0)1530 561957
Email: [email protected] 
To the best of our knowledge, the information contained herein is accurate and reliable as of the date of publication; however, we do not assume any liability whatsoever for the accuracy and completeness of the above information. Plastribution Speciality Chemicals makes no warranties which extend beyond the description contained herein. It is the customers' responsibility to inspect and to test our products in order to satisfy themselves as to the suitability of the products to their particular purpose. The customers are responsible for the appropriate, safe and legal use, processing and handling our products.