Naturally for the majority of UK citizens our perspective on BREXIT is about how the decision to leave the EU will impact us.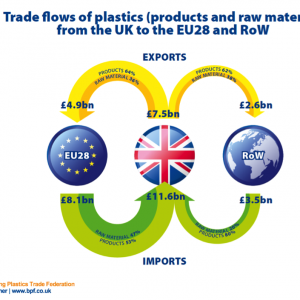 It was not until I was preparing a presentation for a conference held during K 2016 that I became aware of the potential impact of the UK leaving the EU upon the remaining members of the EU and most specifically the potential implications for the plastics sector. The infographic below, prepared by the British Plastics Federation, clearly illustrates the importance of plastics trade between the UK and the rest of the EU in comparison to the rest of the world:
Of course one of the known effects of BREXIT is the devaluation of the GBP against the Euro with both positive effects in terms of UK products potential becoming cheaper in export markets and the likely reduction of import penetration reducing as goods coming from overseas becoming more expensive, however the positive effects will in part be counteracted by the UK's reliance upon raw material imports which will become more expensive.
So with so much at stake we must press 'the powers that be' to see the sense in negotiating a future relationship between the UK and the EU that is good for the entire plastics sector.
More information about the UK's position on BREXIT and the plastics sector is available at: