Santoprene™ TPV for construction glazing seals. In construction, the devil is in the details. A small part can ruin everything if deficient, for example, a glazing seal to prevent water leakage.
Santoprene TPV grades from ExxonMobil come with all-weather resistance and long-lasting sealing performance for windows, door seals and gaskets, both in residential as in commercial buildings. With its unique combination of rubber performance and thermoplastic processing, Santoprene TPV is the construction and glazing seal gasket material of choice for long-term reliability in functionality.
Throughout the years, many impressive architectural landmarks have been built using Santoprene TPV. Some of these buildings are shown below: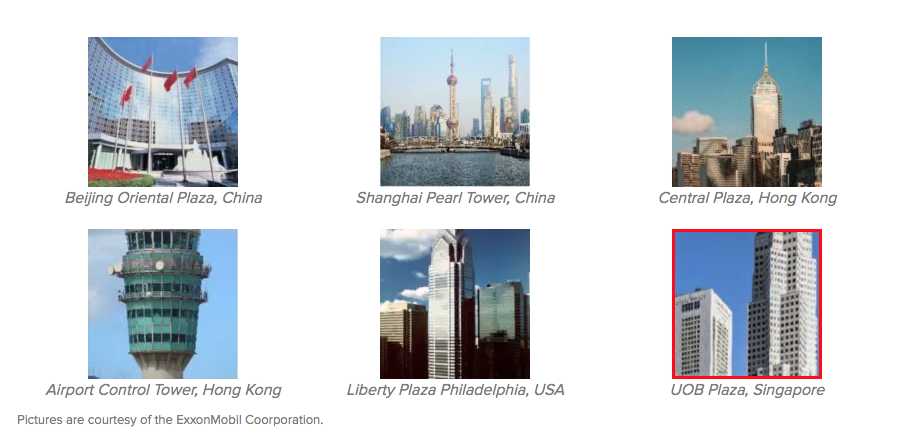 UOB Plaza in Singapore
A particularly interesting case is that of the UOB Plaza in Singapore. This office building was built in 1996 and was one of the three tallest skyscrapers in the city for many years.
During its construction, Santoprene TPV 591-65W175 was used for the curtain wall sealing. 22 years later, the tower was retrofitted with new seals extruded from the current Santoprene TPV 121-67W175 grade for window profiles. ExxonMobil took this opportunity to examine the old profiles and compare them to the newly fitted seals. The test done at ExxonMobil's Shanghai Technology Center (STC) confirmed the original UOB profiles remained remarkably similar in their retained properties to the new Santoprene TPV 121-67W175 profiles, although they have been exposed for 22 years to various external elements, like heat, moisture, UV radiation, etc.
Even after such a long period of extended wear and tear, the original Santoprene TPV profiles were shown to still deliver very good tensile and elongation results. In fact, they are almost identical to new materials and seem completely unaffected by the passage of time.
Click here to download the full case study on the UOB Plaza Tower, with all technical data included.
If you would like to know more about ExxonMobil's Santoprene™ TPV for construction glazing seals or are interested in running a trial please contact your responsible Plastribution Account Manager or the Plastribution Technical team at technical@plastribution.co.uk.