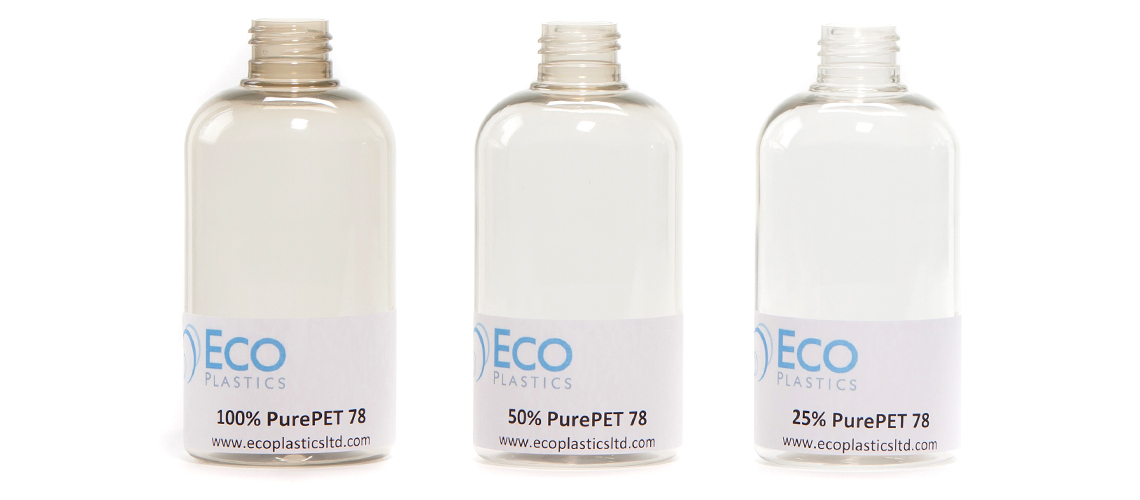 Plastribution are no longer a distributor of EcoPlastics' range of rPET, please see our Sustainable Materials Portfolio for alternatives.
---
As part of Plastribution's commitment to sustainable and technical materials, we are working with Eco Plastics and can now offer the UK's only food grade recycled PET (rPET) to plastics processors across the UK and Ireland.
2 billion plastic bottles are recycled every year
Eco Plastics operates Europe's largest and most technically advanced mixed plastic bottle recycling plant in Hemswell, Lincolnshire and converts 140,000T per year.
Much of the sorting technology is provided by Norwegian company Titech. The PET bottles segregated at the plant are granulated, dry washed and then sent for washing and extrusion into rPET pellets.
The equivalent of 2 billion plastic bottles are recycled every year. The plastic recovered from the bottles ends up in a wide variety of new plastic products such as food packaging, drinks bottles, fleece jackets, pipes, toys and a variety of extrusion and injection moulded applications.
Recycled PET is already widely used
rPET is tough, clear, has good chemical resistance with natural barrier properties and processes as well – if not better than – virgin PET. rPET is suitable for most polymer processing methods. It can be blended with virgin PET to reduce the carbon footprint of a moulded article or can be processed at 100%.
It can also be used to replace more conventional transparent materials in suitable applications where price performance is critical or where a recycled or recyclable product is desirable. Recycled PET is already widely used by major brands for its low carbon footprint, recyclability and strong environmental credentials.
Plastribution are available to advise on any aspect of processing and handling. We are very happy to work with any customers looking to move from their current material to rPET or thinking about using this material on new projects. Material is available from UK stock and typically packaged in 1T big bags – other packaging formats are available upon request.
Please contact your sales team for further information.