PRW Best Places To Work – an important milestone on the journey of employee engagement.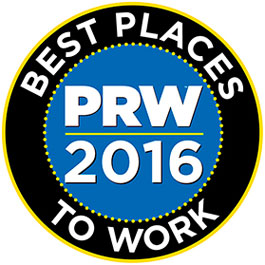 At the recent PDM exhibition held in Telford, some 5 UK plastics businesses were invited to an exclusive lunch to celebrate their achievement in becoming one of the best employers in the UK plastics sector. Of particular note was the disclosure by Andrew O'Kelly of Best Companies Group during the event, that "an incredible 86%" of staff working for the winning firms could be deemed 'engaged employees', versus an average score of 35%.
Whilst for some time Plastribution has recognised and endorsed the philosophy of employee engagement, it is only in the last few years that we have more formally embraced this progressive approach towards managing our key resource. In addition to frequent feedback from visitors to Plastribution about the positive working environment, we have previously been recognised in the 'Best Companies to Work for' scheme by achieving a one star award. And so it was with great pride that Plastribution achieved pole position in the PRW Best Places To Work survey.
However, and as outlined in the title of this blog, employee engagement should be seen as a journey without destination as we seek to maintain and develop our team to ensure that we absolutely do our best to deliver the products and services that you tell us matter. It is therefore with eager expectation that we await the detailed report from Best Places To Work so that we can see where there is room for improvement and set ourselves new goals and objectives.
For those of you who are contemplating a more engaged workforce, we would strongly advise using an engagement survey and regardless of the performance rating, you will know where you are on the road map and from there be able to plan your own journey of success.