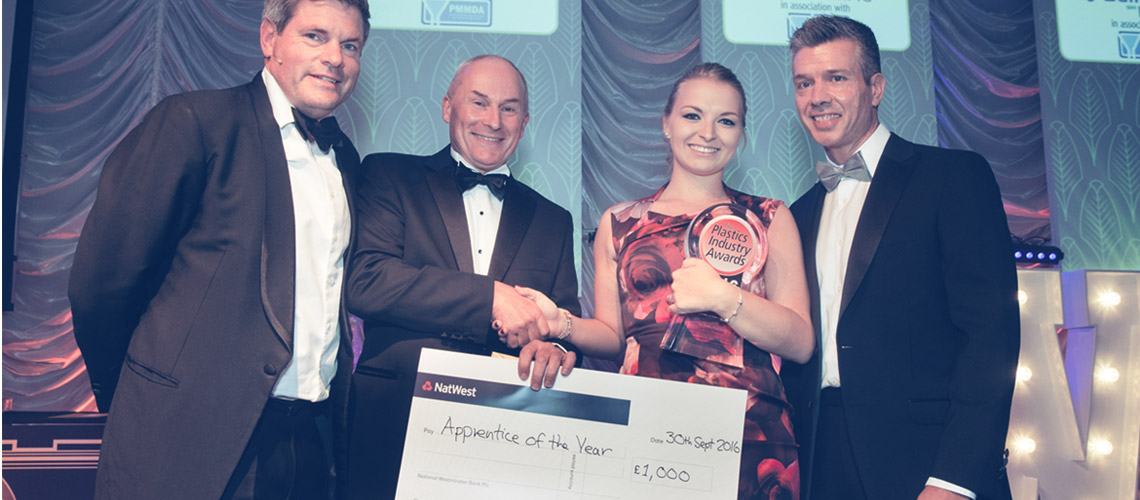 This year's PIAs took place on 30th September and were held once again at the London Hilton on Park Lane in front of a near 700-strong audience, drawn from the UK plastic industry. The event featured a 'Great Gatsby' theme and was hosted by TV presenter Mark Durden-Smith.
Having submitted three entries for the Awards and being shortlisted for all of them, we were bitting our nails somewhat leading up to the event, having suffered what can only be called a 'PIA success drought' for a few barren years. This year however proved successful as our nomination for Apprentice or Trainee of the Year, Lucy Hickling, won the category, as well as picking up a cheque for £1,000 from the Polymer Machinery Manufacturers and Distributors Association in the process – what a result!
Following well deserved celebrations well into the night, Lucy was asked to comment on her fantastic achievement. This is what she had to say…
"Plastribution have always been exceptionally supportive of me, throughout both my studies and my career so far, however I was blown away by their support and confidence in me with this PIA submission.
 When my name was called out as the 2016 Apprentice or Trainee of the Year I couldn't believe it – I was completely overwhelmed and taken aback to have my hard work recognised with a Plastics Industry Award. The calibre of the finalists is always very high at these prestigious awards and it is still sinking in that they considered me to be this year's winner.
 It was great to have several managers who have been pivotal in my training and development accompany me at the awards ceremony, as well as my fiancée who has supported me throughout; it was even better to be able to celebrate my success with these people who have made my achievement possible.
 Whilst it may sound 'cheesy' and insincere, I'd genuinely like to congratulate all of the finalists at this year's awards. Whilst not everyone was lucky enough to walk away with a winner's trophy, all should be proud of the hard work and achievement they have made to have been named a finalist.
It is an absolute honour to have been selected as the winner of this award. It's a moment and most of all an achievement that I will cherish."
Katherine White, Plastribution's Commercial Director and Lucy's line-manager added: "Lucy has worked extremely hard at both with her studies and within Plastribution. This recognition is very well deserved and we are very proud of what she has achieved."
RECOUP conference to address "public knowledge of plastics recycling" https://t.co/QEey1hcJwQ - looks like it's goi… https://t.co/bMzNe05Whd

2 years ago