Since recruiting our first apprentice in September 2010, Plastribution has seen the fantastic benefit of bringing young people into our business. After all, we've developed 5 apprentices into full time employees and even had a winner of "Apprentice of the year" at the Plastic Industry Awards!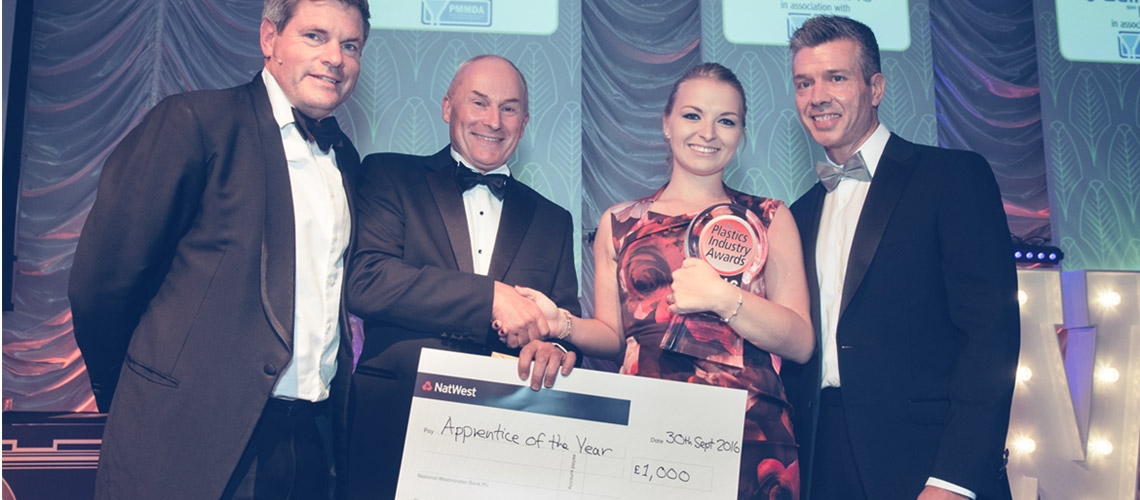 Lucy Hickling receiving a PIA award for "Apprentice of the Year 2016"
11 month's ago, one of our latest recruits on the apprenticeship scheme - Maya, joined our team. Maya has kindly written a blog piece to share some of her experiences so far regarding her life at Plastribution.
Before I started my apprenticeship, I was quite a shy person and didn't like to be outside my comfort zone. It didn't take long for me to develop more confidence and after a few weeks in the business I'd already made friends with lots of people. I think this was mainly because the office is such a lively, happy and busy place to be every day and I quickly adapted to my surroundings.
It's always nerve-racking meeting new people; especially in a new business, however everyone at Plastribution quickly helped me settle in and made me part of the team. It's safe to say everyone at here is extremely helpful and so kind. I was and still am very glad to be working for such a nice company, which I know isn't always easy to find.
One thing I love about being an apprentice is having the opportunity to work in every department of the business, including sales, marketing, technical, finance and product management. This has really helped me form relationships with everyone here. Every department I've worked in I've really enjoyed – it's awesome to be able to say "I love my job" and really mean it!
I've found that each department has provides its own challenges and I've had to adapt my working style to suit each one. This has not only helped me discover what my skills are and what my preferred working style is, but also gives me a better idea of what job I want to do in the future.
As an apprentice you are allocated a line manager who is normally the person who interviews you in the first place. I am lucky to have such an amazing line manager in Lucy Hickling, who is really helpful and very pro-active. I know that if I have any issues or if I want a chat, she will make the time for me and she's always interested in how I'm doing. Lucy has gone through the apprentice program herself and understands the process very well. What's very encouraging is to see her still part of the business and doing well years down the line.
As an apprentice you get study time whenever you want. As part of my college course, I'm expected to commit 20% of my time to study each week. I'm always given this time and it's never a problem to fit this around work. We are also having training sessions and meetings all the time that you can drop in to. I think this is great as over the past year I have had a lot of training which I wouldn't normally get for free. Plastribution are always striving to improve and adapt, so it's great that staff are always given the opportunity to develop themselves.
I am nearly at the end of my apprenticeship and I am so excited to see what Plastribution has in store for me in the near future. I know that if I am lucky enough to get a full time job here, I will be looked after and will be given some excellent career opportunities.