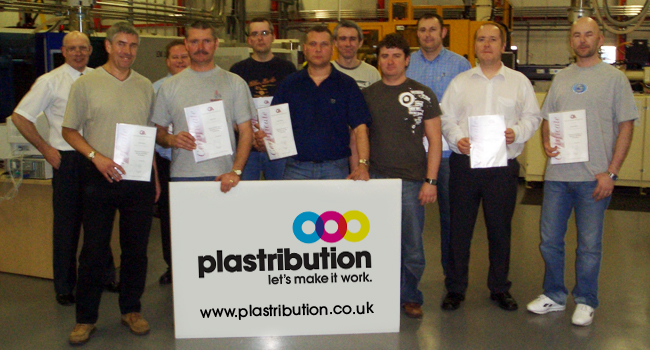 Advancing the knowledge and skills of the injection moulding industry
Beyond the supply of high quality thermoplastics, the sharing of its technical "know-how" is a second, fundamental element of Plastribution's commitment to service excellence. This is reflected by the initiation of two training courses aimed at advancing the knowledge and skills of its customers' process technicians and production and commercial managers from the injection moulding  industry.
The first, a three-day course entitled "Process Optimisation" and delivered by plastics consultancy and training provider G&A Moulding Technology at its state-of-the-art premises in Peterborough, combines theory with practice in meeting the needs of the processor wishing to obtain high levels of accuracy and productivity from their production facilities. Appropriate candidates for the course are experienced process technicians and engineers responsible for carrying out mould tool trials and trouble-shooting in order to improve productivity. Topics typically covered during the course include an assessment of the moulding cycle and its effect on productivity and part quality, the optimisation of injection speed  and pressure and the calculation of holding and tooling time.
Discovering the value of plastics
Plastribution's second training course, "Injection Moulding for Non-Technical Staff", is held over two days, also in conjunction with G&A. Its purpose is to provide candidates, who most likely have a commercial or non-technical background, with a general understanding of injection moulding materials, machines and the processing of the polymers which will enable them to make educated decisions when specifying and procuring materials.
The informative and entertaining theoretical sessions, presented by Plastribution, provide an introduction to polymer chemistry before leading on to the profiling of polymer groups  by their properties and typical applications. In the practical sessions, covered by G&A, candidates receive an overview of the injection moulding process, and some of the equipment involved, before undertaking a practical mould setting exercise themselves.
Acquired knowledge can be rapidly applied to business
Both courses have been well received by those attending, who have considered them worthwhile and recommendable events. For instance, Nicky Bullock, UK Furniture & Accessories Procurement Category Leader at bathroom solution provider Ideal Standard International, who recently attend the 'non-technical' course, said: "I wanted to have a good grounding on the basics in plastic resins so I could apply my understanding to the procurement role I have within the organisation.  I found the course very informative and interesting and would not hesitate in recommending the course to any novice or anyone coming into the industry not possessing any technical knowledge.  It has certainly given me plenty to think about, and the information gleaned from the course has helped me put together this year's procurement strategy."
"Process Optimisation" and "Injection Moulding for Non-Technical Staff" are provided 'on-demand' by Plastribution depending on participant numbers. For more information or to register your interest in attending a course please contact Duncan Scott.
Tel: +44 (0)1530 560560 or Mob: +44 (0)776 8716227
Email:duncan.scott@plastribution.co.uk