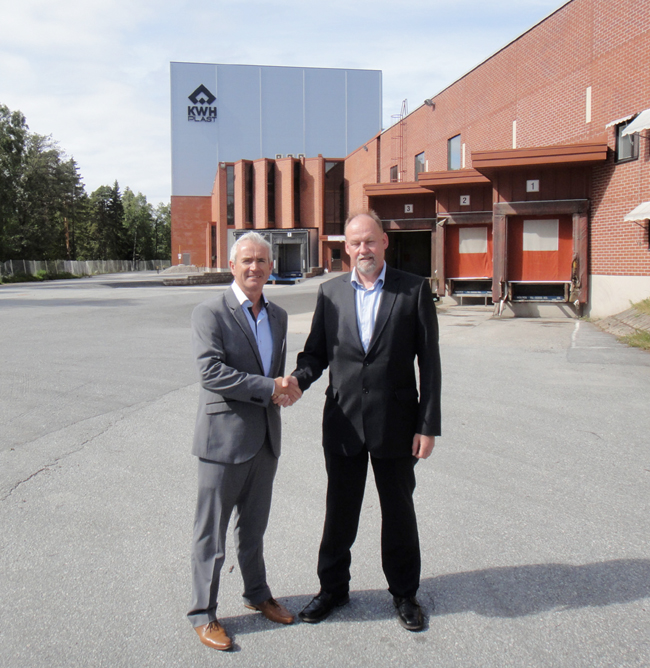 Ashby, Leicestershire, November 2011. Plastribution is the newly-appointed distributor of co-extruded PO and high-barrier packaging films from KWH Plast in the United Kingdom. As part of the distribution agreement between the two companies, Plastribution is now in the position to supply KWH Plast's new range of oxygen-barrier in-mould labelling (IML) films to the UK packaging industry. Their availability presents new opportunities for the industry to increase the shelf-life of perishable foods, improve shelf-appeal through enhanced decoration performance and replace tin cans and glass jars with lighter weight, injection-moulded packaging.
UK availability of oxygen-barrier IML films
First announced in October 2010, KWH Plast's advances in combining barrier packaging film and IML film into an oxygen-barrier IML film are a result of the company's experience and expertise in both IML and injection moulding. IML films hold a strong position within the overall KWH Plast product range, while the company is also a recognized producer of packaging films with various special properties. These include films oxygen barrier properties, attained by using special polymers such as ethylene vinyl alcohol (EvOH). The oxygen transmission rate (OTR) of films developed by KWH Plast ranges from 1 to 3 cc/m2*d (23°C, 65% RH). These are typical values needed to ensure the required shelf-life of most foodstuffs.
The new films are regarded as having massive potential. "This is a major step forward providing benefits in terms of both extending shelf life and excellent printing properties," commented sales and marketing director Håkan Forss. "Moreover, their availability presents the packaging industry with an alternative to tin cans and glass jars with lighter injection-moulded packaging, leading to further savings in terms of resources and costs."
Fulfilling customer requirements
Commenting on the distribution agreement with KWH Plast, Alan Moules, commercial director at Plastribution said: "We are delighted to add the range of retortable, peelable as well as anti-fog and barrier films available from KWH Plast to our distribution portfolio. As the recent development of oxygen-barrier IML films reflects, their expert knowledge of multilayer co-extrusion enables the creation of new interesting solutions for companies involved in the manufacture of food packaging. Moreover, their approach to co-operative development with its customer is in line with our own philosophy of innovation and making things work."
About KWH Plast
KWH Plast, located in Finnish city of Jakobstad, is a leading manufacturer of plastic films and sheetings. Its tailor-made products are used worldwide by companies within the food, food packaging and label industries. The company combines profound knowledge with more than 60 years' experience in plastic processing to develop new products that meet the demands of its customers. Approximately 90 percent of its products are exported worldwide through a sales organization that is supported by a well organized network of agencies and distributors.
About Plastribution
Plastribution is the UK's leading distributor of plastics raw materials, delivering reliability, know-how and true business partnership to the world's best polymer suppliers and its UK customers. For further information please visit www.plastribution.co.uk or contact sales@plastribution.co.uk, telephone 0845 3454560.
For press enquiries please contact Andrew Wilkins on 01353 663350 or email: plastribution@plasticspr.co.uk.
Caption for image (following page): Alan Moules, commercial director at Plastribution (left) and Håkan Forss, marketing director at KWH Plastics, mark the start of the distribution agreement.